In Your Face!
Maja RADANOVIĆ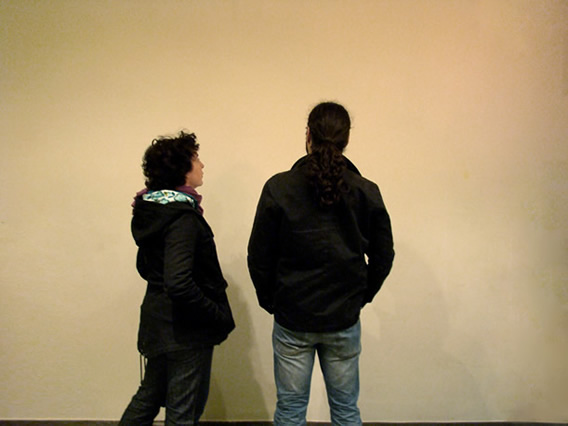 It seems to me that pieces of art exhibited in galleries make little sense except for personal satisfaction. In the environment where people do not have the habit of going to the galleries and subscribing for the mailing lists to keep them informed about artistic events, leaving only people who work in the domain of art and their close friends as the audience, exhibiting in galleries seems more and more passive, personal and closed.
The words "THIS WALL IS SPECIAL, ONLY THE ARTISTIC ELITE CAN SEE IT, IN YOUR FACE!" have been cut out of transparent film and pasted on one of the gallery walls. They narratively invoke the constantly-repeated situation. It is "us" alone who look at that wall,"us" alone who can see the transparent letters, the "emperor's new suit".
On the one hand, as a fan of art and public space intervention in general I believe this is also a personal reminder that art can be communicative, even break taboos, make changes, cause revolutions but that it should suffice to be at least visible to the others, to step out of its boundaries (the enclosed space of the gallery); this is a personal need for the art to cummunicate with all those people who never enter into galleries. Who are we doing this for if we all just end up patting each oter's shoulders?
Yet , I regret the fact that this prestigeous "Magelos" award means nothing outside the narrow artistic circles – as though it did not exist, no one has heard of it, let alone of the award winners. And there it remains in our little intimate circle, like one of the walls tucked in and  "hidden" from the eyes and the insterest outside the space of  "the white cube", in your face...
|||||||||||||||||||||||||||||||||||||||||||||||||||||||||||||||||||||||||||||||||||||||||||||||||||||||||||||||||||||||||||||||||||||||||||||||||||||||||||||||||||||
Maja RADANOVIĆ was born in Belgrade in 1978. She studied Sculpture at the Faculty of Arts in Belgrade in the class of professor Mrđan Bajić. She attended the International Summer Academy of Fine Arts in Salzburg in the class of "Public space interventions" with the professor Alfredo Jaar and the class of  "Video art", with the professor Ellen Cantor.
She had a number of solo exhibitions in Belgrade (2004 – Instalation of sculptures and prints "Creatures" and 2006 - "BRE!ND", interactive instalation in the Gallery of Dom omladine, 2009 - "Fear of the white cube" sculpture instalation at the Remont Gallery, and 2010 - "Bermude", the series of pictures "Introductions", Art center UBSM), as well as numerous group exhibitions, both in Serbia and abroad (Belgrade, Vršac, Temissoara, Zurich, Paris, Istanbul…).
Contact: zutacrta(at)gmail.com